overview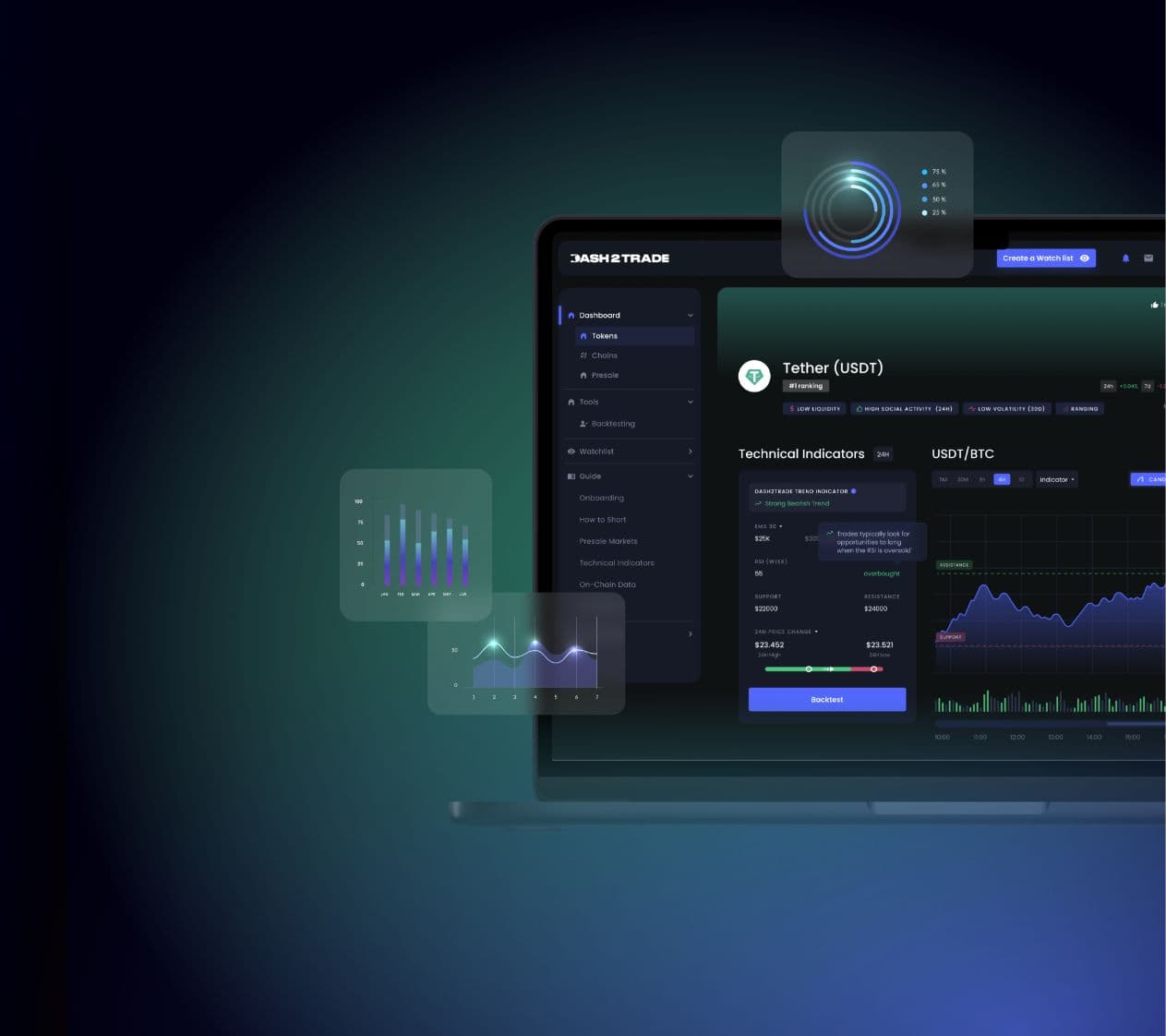 Dash 2 Trade Open Beta Is Here! What's Next? (Project Update)
Let us start with a big thank you to our community for your patience during our ongoing development journey. What started as an ambitious idea for a central hub where crypto traders of all experience levels could come together to learn, earn and grow, is now a rapidly growing platform, packed with exciting features.
Let's break down what Dash 2 Trade's Open Beta is all about, how we got here, and what's to come.
What is Dash 2 Trade and How Does It Work?
Dash 2 Trade is an advanced crypto analytics platform designed to simplify and streamline the way users source trades by giving them access to innovative tools, insightful analytics, and a support structure in the form of our ever-growing community.
As a trading and analytics platform, Dash 2 Trade leverages vast amounts of market data to help its users create, test, and deploy winning crypto trading strategies.
What are Dash 2 Trade's Key Features?
The Dash 2 Trade platform is built to facilitate an effective approach to trading. It features actionable financial and social performance metrics for hundreds of cryptocurrencies, industry news, and market updates. At the heart of the platform sits a powerful strategy builder, backtester, auto-trader, and trading competitions.
Dash 2 Trade also offers users a gateway to hundreds of currently available presales from around the crypto space. The presale dashboard is packed with deep insights showcasing project attributes such as social momentum, the team's publicly available information, smart contract security, and other important considerations.
All of these features have one thing in common — they save users hundreds of hours in research time and increase the probability of picking winning trades.
How Is Dash 2 Trade Different From the Competition?
Our platform empowers users by making it simple to implement tried and tested qualitative and quantitative approaches to trading. We simplify techniques used by professionals in both crypto and traditional financial (TradFi) markets, making them more useful for everyday users.
The data streams and tools we are building are underutilized by regular retail traders. Dash 2 Trades brings these tools to the masses in a sleek and simple package, for both desktop and mobile users.
In addition to developing must-have analytics tools, Dash2Trade is also committing resources towards uprooting the mistakes most commonly made by new traders. Our helpful video guides, articles, How-To's, and community of experts help individual traders make better decisions. But don't take our word for it, see for yourself by joining the Beta!
What is the Dash 2 Trade Open Beta?
The Dash 2 Trade Beta is now open, meaning any user can request access through our official Discord server. The open beta is an early version of the platform (still under development) that's being released to our most eager early adopters. This will be the final release stage before we unveil the official version of the platform in tandem with a much larger marketing campaign.
By opening the beta version to the public we aim to give users a sneak peek into the development process. We will also be using the opportunity to gather even more vital user feedback about the platform.


Understanding the Dash 2 Trade Subscription Model
We chose a subscription model instead of alternatives like a one-time license or a hold-for-access model because our approach is a lot more efficient for the platform, fair to our users, and secure in the long run.
Starting off with two tiers (Free and Professional) made sense to make sure we fully meet the core needs of our users before we add more complexity to the platform.
What is the Future of Dash 2 Trade's Subscription Model?
Our goal is to expand the tiered structure to include additional levels of features and access.

In addition, we should mention the important reality of transaction costs on Ethereum. They're often unpredictable and can grow enormously in times of high network usage. For this reason, the subscription smart contract is being designed in such a way as to minimize costs while leveraging the transparency of blockchain to showcase the $D2T locking mechanism.
One thing is certain, Dash2Trade's native $D2T token will play a central role in the ecosystem of Dash2Trade.
Our Development Journey (Feedback and Improvements)
Over the past months, our team has been deep in development, testing, and implementing a number of exciting features, some of which are already available for you to try on the platform.
User Feedback Summary
Overall, early testers of the platform had good feedback on the trajectory of the platform. The main challenges faced were in the form of development delays. We are continually scaling resources toward development, and remain fully committed to delivering what we set out to and beyond.

Other comments from users were about UX/UI bugs which were mostly known to us but were temporarily backlogged in favor of spearheading feature performance. Most of these bugs have since been addressed.

The overall consensus is that the beta platform is progressing, a clear data point in favor of the coming utility that will greatly empower traders.
Upcoming Features and Improvements
Our developers are hard at work behind the scenes to make the first full version of Dash 2 Trade a reality as soon as possible. During the platform's beta phase, you'll see numerous changes and improvements to its design, tools, and UI. One such improvement is the upcoming upgrade to our Market Events page.
Additionally, you can look forward to the release of the much-anticipated trading competition features and our auto-trader soon after.
Market Events Upgrade
In a nutshell, the Market Events page is like an "alerts page" for unusual and noteworthy activity in the crypto markets. Available alerts include those for major price changes, volatility, or differences in trading volume between two time periods.
In the very near future, we'll be expanding our list of market signals significantly, while revamping the page's visuals to provide a lot more information at a glance.
Autotrader Bots
The Dash 2 Trade platform will soon see its functionality grow by orders of magnitude with the introduction of our DCA and Grid trading bots.

These are trading automations you can run using criteria in line with your personal trading strategy that either perform structured Dollar Cost Averaging (DCA) or open multiple positions to help you manage a complex grid trading plan. The bots will work with some of the most popular centralized exchanges (CEXs) straight out of the gate and we'll be continuously expanding the list of available exchanges over the coming months.
Trading Competitions
Social trading is core to our vision for the platform. Regular trading competitions will be among the many community-centric interactive activities that users will be able to take part in on Dash 2 Trade.
The competitions will also feature a weekly prediction challenge. Insights from these predictions will be available to users and the winners will receive rewards paid out in D2T tokens.
The Future of Dash 2 Trade
We are confident a successful future is in the cards for Dash 2 Trade.
Our goal is for Dash 2 Trade to become a central source of information, insight, and knowledge for crypto traders of all experience levels. We want to empower our users to improve their skills, implement winning strategies, and find like-minded people within a lively community.
The crypto market continues to grow despite facing numerous roadblocks. Remarkably, these challenges have not managed to slow it down. As the market becomes more liquid, trading is becoming faster, cheaper, and even more accessible. Our platform is poised to benefit significantly from these developments.
Support and Resources for Users
Providing users with powerful tools is just one-half of the whole. The crypto space and its many novel markets are challenging to navigate even for experienced traders, let alone novices that are just now coming into the fold. For them, we are preparing supporting materials, educational resources, and most importantly, a community that they can always tap into for advice in their journey toward financial independence.
Detailed video and written guides will soon be available to users of all experience levels to help them extract the most value from the Dash 2 Trade platform.
Community Engagement
One of our core objectives is to foster a sense of security and dependability among our users by surrounding them with a community of experienced traders with whom they can share knowledge and insights.

Together with our community members and moderators, we are in the process of redesigning the future of Dash 2 Trade's community management. Discord-based contests, re-structuring the $50K D2T giveaway, and incentivizing valuable community behavior are all part of this. We welcome input from all community members, just reach out to the mods to jump in!
Our team has decades of combined experience in quantitative trading, statistical analysis, and traditional financial markets. We will be calling on this knowledge to help us turn our community into the perfect high-growth environment for crypto traders.
How to Become a Part of the Dash 2 Trade Community
To join the ranks of traders, professional and amateur alike, you can visit our official Discord server. In addition, be sure to follow us on social media, where we post regular updates and valuable market insights!
Closing Remarks
We're thrilled to have reached the stage of the Open Beta, a pivotal moment in our journey. Our gratitude goes out to the steadfast community that stood by us and gave us invaluable feedback. We encourage all to explore and engage with Dash 2 Trade and we continue to evolve together.
Thank you for your support, and here's to a more profitable, decentralized, and smarter crypto trading world. 🍻
Cheers,
The Dash 2 Trade Team