Closed Beta Live
Source your next winning trade with unique indicators, bots and tools
Dash 2 Trade is a Crypto Analytics platform led by traders and quants. The platform provides actionable insight through 'signals', social analytics and indicators to enable our users to make better trading decisions.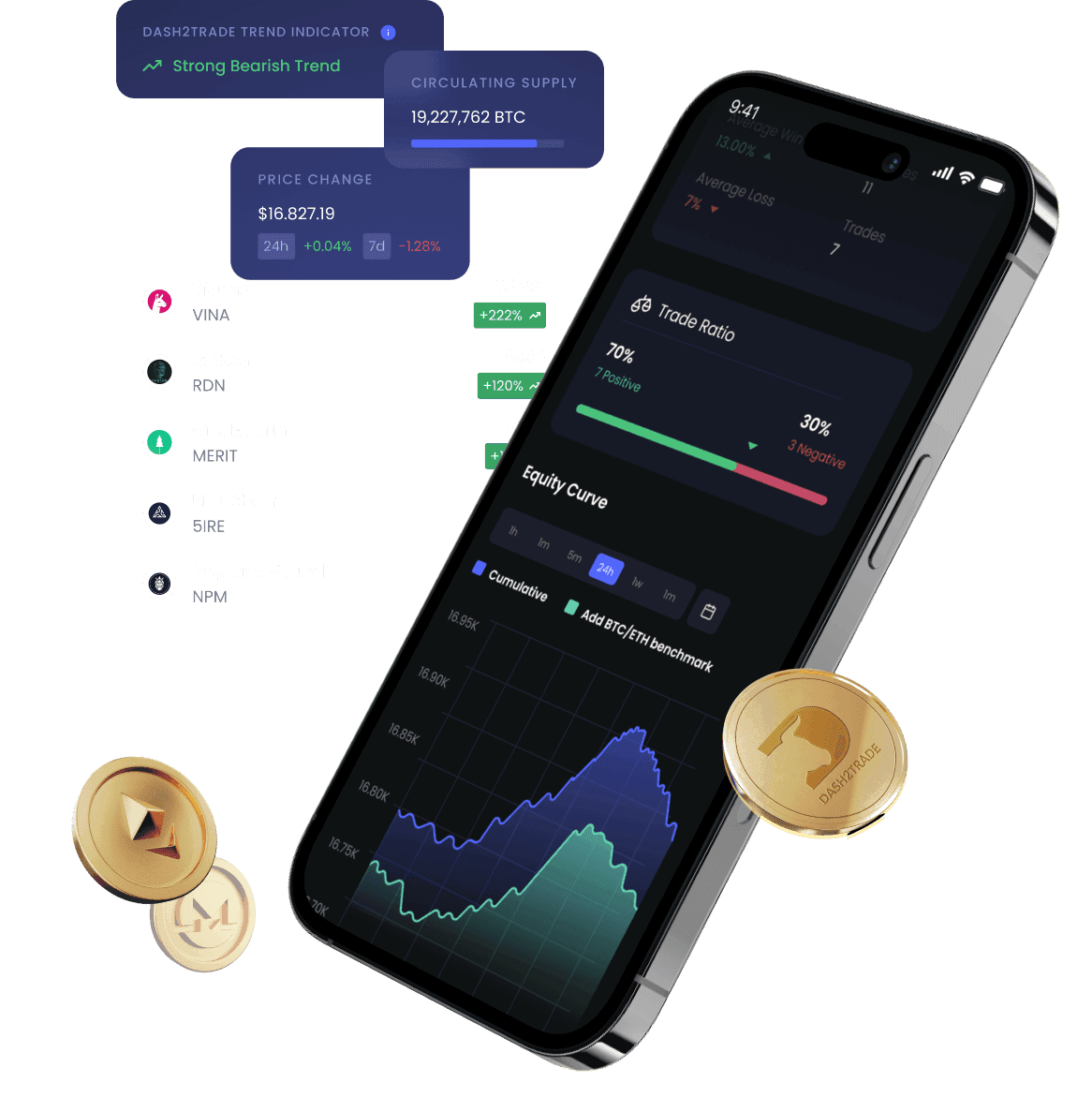 10,000+
possible strategies
Our highly versatile backtester allows you to test an enormous amount of different strategies and indicator to find the systematised trading approaches that work.
Learn the most important principles that make people stop losing money. Our guides help you use indicators effectively.
10+
unique indicator streams
Dash 2 Trade tracks and monitors the market, blockchain and internet for unique indicator that lead to actionable insight. Its combination of social and on-chain analysis insights are completely unique in the market.
Track analytics for hundreds of coins and tokens to hunt for the next profitable trade.
Features
Features
Features
Features
Features
Features
Features
Features
Features
Features
Presale Market Activity and Research
Presales offer some of the most interesting opportunities in the crypto space. Presale tokens have completely different attributes related to them because they are not actively being traded on the market. Dash 2 Trade helps give clarity of information to this part of the market and provide unique scores and indicators for users to track.
Algorithmic Bot Trader & Backtester
Avoid missing out on profitable trading opportunities. Build and execute your own profitable trading strategies on auto-pilot. D2T users will be able to copy the most profitable traders on the platform or build their own DCA, grid, and other strategies using 10+ technical indicators.
Access to actionable Insight and unique social indicators
Dash 2 Trade provides unique indicators like social metrics. Many major market movements are dictated by socio-cultural movements in the space. Social signals are one of the most important factors in this space as value is driven by perception first and technical factors second.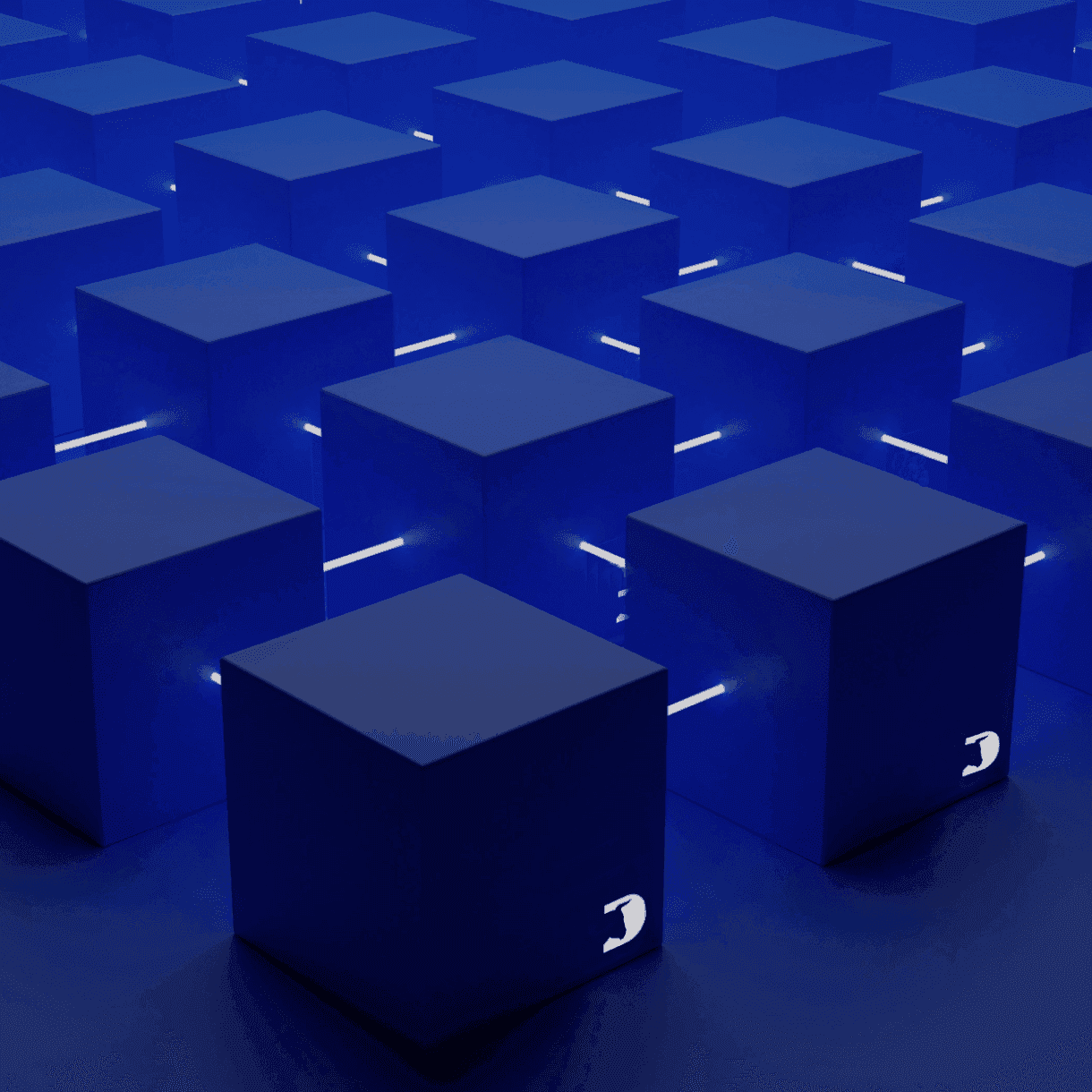 Crypto Trading Signals
Maximize your profits with crypto signals powered by technical indicators and Quants.
On-chain Analytics & Social Sentiment
Gain a competitive edge with advanced on-chain metrics and trending social sentiment.
Crypto Presales
Discover new crypto presale opportunities and save time using our custom ratings and algorithms.
Strategy Builder
Build, backtest and optimize your trading strategy using a DCA, grid and indicator-based trading strategies.
# smart-money-insight
Get insights of why things happening in the crypto market. Rate hikes, smart wallet tracking - its all in there to stay on top of the market and learn why things are happening
💸
# trading-setup reviews
Follow and learn from trades from a profitable trader. Our trader posts his trades in real time.
📈
🔥
About ourCommunity
We grow our community by being the catalyst for winning trades. The more informed and successful our community, the further the Dash2Trade project reaches. Our dedicated Discord group is open for all. We invite you to come learn, gather insights, and network. Become an effective master of your coins, evolve your trading strategies with Dash2Trade.
Experience all the perks
Start your intelligent trading now, with a click of a button. Inexperienced? Try & learn with no risk. Proficient trader? Put your strategies into action. Pick a plan that suits your needs most.
Tiers

Free Tier

≈0  usd

0 D2T

≈0 usd/year

get a feel for the platform

Trader

≈TBD  usd

TBD D2T

≈TBD usd/year

starting out to Trade

Professional

≈TBD  usd

TBD D2T

≈TBD usd/year

hunting for the next big win

Watchlist

Backtester

1 run per month, limited to top tokens and 1 day candles. No access to table of presets

Access to 10 runs per months, limited to top 20 tokens, 1 day and 4h candles

Full access to advanced version, all tokens, all operations, 100 runs per month

Event Stream

Event stream limited to top 20 tokens

Event stream limited to top 20 tokens

Presale Section

No dashscore, Add social metrics but no % change

Full access to Dashscore and social metrics

Technical Indicators

Only 1h+ indicators and no D2T trend indicator

Access to D2T trend indicator. Access to sub 1h indicators on top coins only

Full access to all indicators on all timeframes and all tokens

Trading Competitions

Accessible with bonus competitions in future
Frequently asked questions
What is the idea behind Dash 2 Trade?
The main vision of Dash 2 Trade is to have an all-in-one dashboard to meet crypto trading needs for retail.
Firstly we see ourselves as an on-ramp for the versatile trading space that crypto has to offer. We want to convert the typical crypto user to the successful crypto trader. This means a lower barrier to entries to various aspects of the trading space - like coming up with and testing a strategy.
Second - We want Dash 2 Trade to be a consistent and independent source of signal and actionable insight. This we aim to offer in various ways by presenting unique information from the crypto markets to users
And Third - We aim to build a strong trading community. 'Social Trading' is a concept that we have clear ideas on how to execute - mainly through trading competitions and signal sharing. We want to create the environment that facilitates this and engages the community with the Dash 2 Trade platform.
Is dash 2 trade a dex or cex?
Neither - it is a trading analytics tool. We do have an integration with cex in the form of an auto trading tool that is in development. This means you can connect your exchange/brokers API to our system and set up automated trades that are routed through your preferred CEX for execution.
Are there any staking features?
Staking is not planned at the moment. There will be rewards planned related to our trading competitions. We think that is a more interesting way to reward engagement with the ecosystem.
1
Firstly, make sure you have a MetaMask account ready (for mobile users we recommend using Trust Wallet).
2
Go straight to the buy page for D2T on Uniswap by clicking here. Make sure you are on https://app.uniswap.org/ before you proceed
3
Click on the 'Connect' button and select your wallet option to enable Uniswap to interact with your wallet. Make sure you are connected to the Ethereum network.
4
Once connected you can buy D2T tokens using ETH or USDT. Just choose the amount of D2T tokens you wish to buy and click 'Swap'.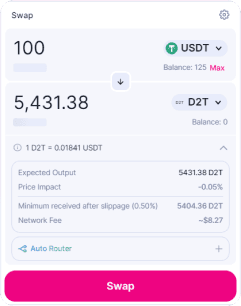 5
Take note of the price impact, minimum received, and network fee before proceeding. Check the order details, then click 'Confirm Swap'